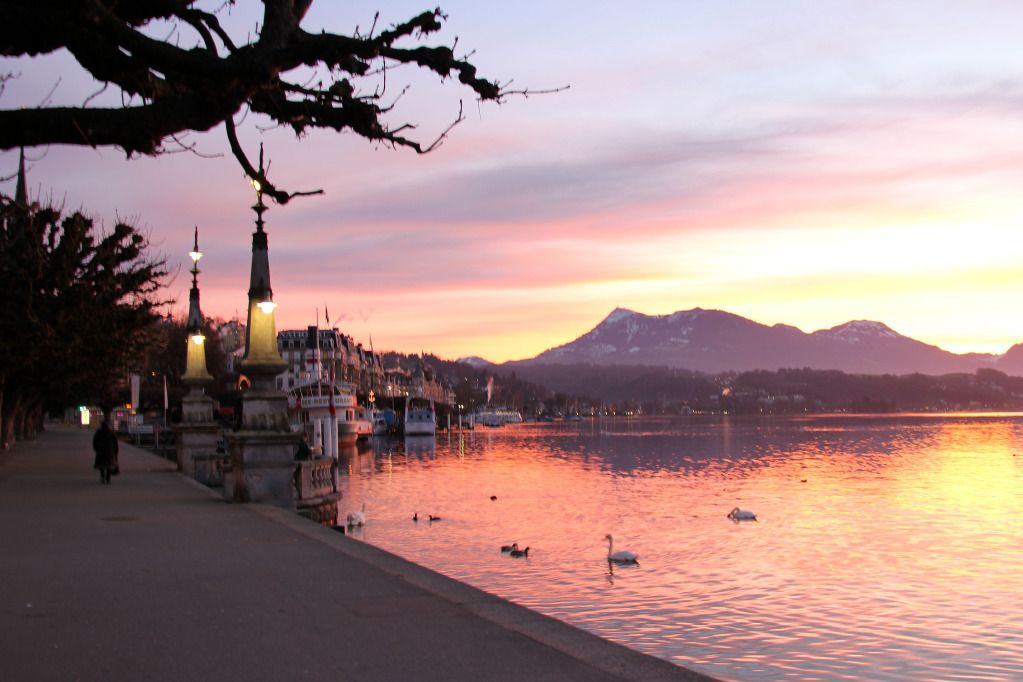 What can I say about Lucerne that hasn't already been said ... beautiful, orderly and tranquil, Lucerne is so picturesque you cant really say anything bad about it.
We were lucky enough to stay in a lovely hotel on the lake and were rewarded with beautiful views the minute we stepped outside. Every street is ever so beautiful, I didn't see any graffiti, rubbish was absent from all the usual places and even the pollution you would normally find on old buildings in the form of a black coating is absent.
To put it simply Lucerne is heaven in a perfectly elegant Channel suit. Now here is the kicker ... it also costs as much as a Channel suit. The prices that we saw were expensive ... poor Mr V lashed out on a late night snack at the golden arches and a medium meal cost him $20 Swiss Franks!!! Saying that a dinner out would cost the same as in Perth, Australia so while its expensive its not "oh my god I'm going to have to sell a kidney for a steak expensive" just the usual ... my wallet hurts slightly.
So we didn't really get much time to explore Lucerne, we only had a few hours before our flight out but even that was drama filled. Waiting in the lobby for the pickup I belatedly realised looking at the paperwork that our driver was waiting for us in the sister hotel in Zurich not Lucerne where we were currently sitting. A slight oversight on my behalf .... (yes its true, I am not perfect) which meant desperately trying to organise an alternative 1 hour and 15 minutes away with a very limited time window! Our poor driver reached speeds of up to 160 km's an hour to get us there on time. So leave Switzerland we did .... headed to our last destination for the trip and my personal favourite ... Prague!
So much excitement for our last destination but also coming home .... we actually miss home and while the trip has been fantastic our bed is really starting to feel like an oasis .... however still two more days to live to the fullest before back to the grindstone until the next holiday.