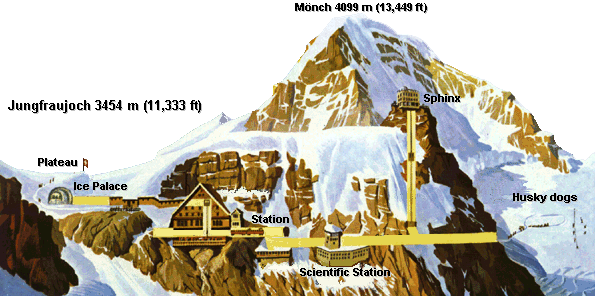 At 3454 meters above sea level Jungfraujoch is Europe's highest altitude railways stations and the highlight of our visit to Switzerland.
A series of small, super cute cog wheel trains shuttle visitors up the mountain starting down at Grindelwald (even the village names are like something out of a fairytale) the train travels at a leisurely pace past small towns nestled beneath the mountains, ski resorts and spectacular views. You reach another cute little ski resort at the base of three large mountain peaks, Eiger, Junfrau and Monch where you change trains for your journey through the mountain.
Now before we go into the mountain let me give you a bit of a spiel on this particular Mountain and whats so special. The Jungfrau is one of the main summits in the Bernese Alps. The Jungfraujoch railway was constructed 100 years ago this year 1912 which is a feat of engineering in itself. The iconic Sphinx - an research observation base is one of the most recognisable in the world and I think (but don't quote me) that it was actually featured in a James Bond Movie!!! You may just be able to seethe little bump in the center of my picture.... the second one.
Ok now back to the experience itself. You wind your way up through the inside of the mountain, photo stops along the way giving you a look at all the original blasted out walls and views that seem to go on forever before finally arriving at top. Your poor ears have popped and you are breathing heavily after having been warned to move very slowly as lack of oxygen can be an issue, further compounded by a young Japanese girl passing out nearby. Im not going to name names but one of our group got particularly dizzy while up here ... he he he.
There is a lot of stuff to see up here but for us the two main ones were the sphinx and the ice palace. So Ice Palace first .... this is a chance to walk THROUGH a glacier .... you can see here mum issuing poor missing dad a challenge - she has completed something else that he hasn't ....
Bucket list item 87 - walk through a glacier - tick!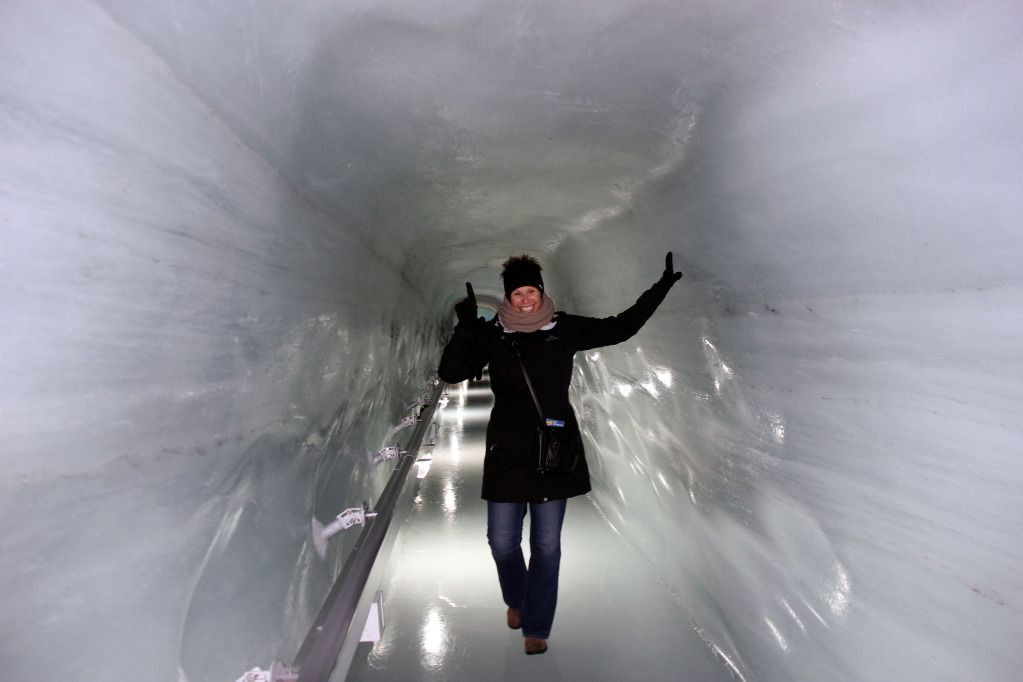 So back to the ice palace - eery shades of blue and white bath the place in a weird kind of glow, you slide softly forward excited at where you are but nervous as to staying on your feet. There are small little tunnels, carvings and photo opportunities and for a few minutes you get that excited ... "I just can't wait" feeling you used to get when you were little.
Finally the Sphinx. A elevator takes you out of the bowels of the Earth to the research station ... the problem, white out meaning everyone gets back into the elevator to spend more time at the palace. But not us crazy Australians .... of course we go out in the sub arctic temperatures and pose for stupid photos while frost bite starts attacking our extremities.
Overall today was so great - we did something totally different, saw something we mind blowing and had fun in the process. May tomorrow hold the same wonders!