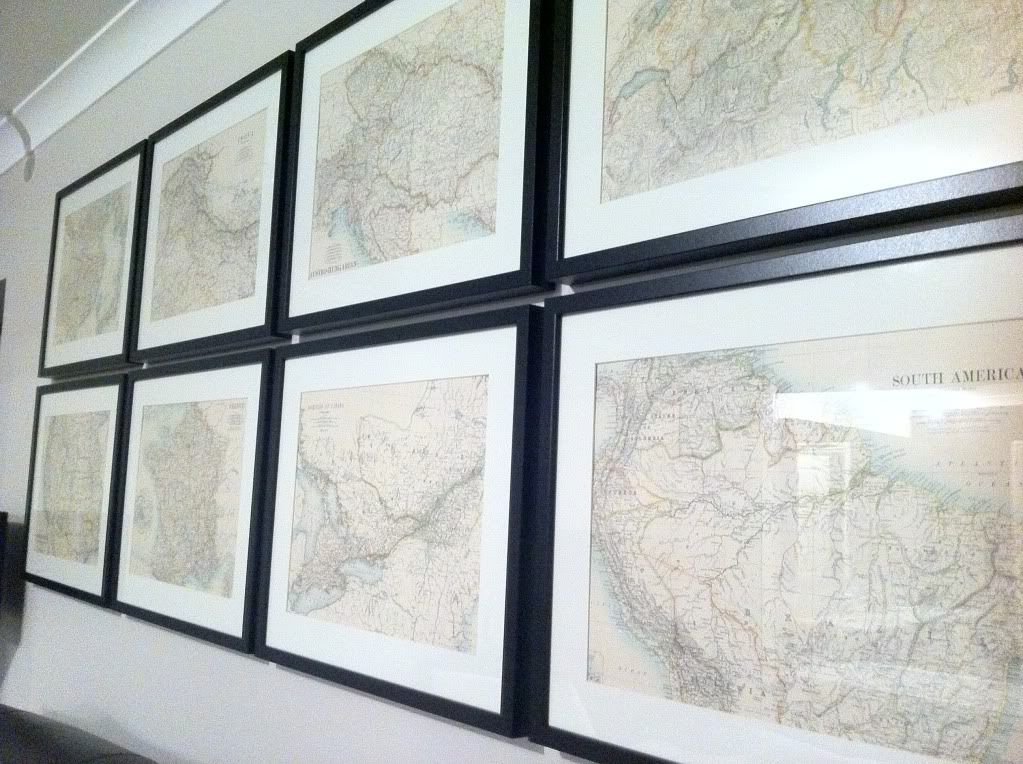 Obviously you have seen update pictures of my bedroom over the last few weeks but there has been something missing .... that is, stuff on my walls.
About 2 years ago I found a set on antique maps from the 1800's. I loved them straight away and was determined to have the over my bed in a set of 8 or 9. Unfortunately the walls just were not high enough to have 3 rows of 3 but option 2 was going to look great anyway. I found the perfect size frames at Ikea if you can believe it and all was ready for someone brave enough to step up and hang them.
Hanging things on walls is a daunting task for anyone, sure you can hang one picture and have a good chance of getting it right. How about hanging 8 pictures exactly parallel with the same gaps between each and every picture.
Obviously no one was brave or stupid enough to even think about giving me access to a drill but I am extremely lucky to have a dad who is very good at this and he was kind enough to help me hang them yesterday. For me they just finish the space so very beautifully I just can't help but fall in love with them. (Note these pics are taken with an iphone at night - I will try and take some good ones over the weekend.)
So my master bedroom nearly finished .... I can now list the outstanding tasks on one hand.
1) Repair cornice demolished during dressing room construction
2) Purchase occasional chair and footstool
3) Source mirror for near bathroom
4) Measure and source blinds for dressing room and bathroom